1325 Franklin Avenue Suite 255
Garden City, New York
11530

193 Griffing Ave
Suite A
Riverhead, New York
11901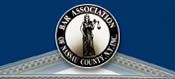 FAQs - Frequently Asked Questions
Tomao & Marangas, Attorneys at Law
Q: What is a personal injury?

A: A personal injury is a physical or mental injury caused by someone's negligent or intentional acts. The following are the most common incidents that can result in personal injury:

- Automobile/truck/motorcycle accidents
- Workplace injuries
- Home injuries
- Wrongful death
- Medical malpractice

Q: Why should I retain legal counsel if I've been in an accident?

A: Health issues caused by physical injury can take months or even years to develop. Only an experienced personal injury attorney can assess your situation and help you determine fair compensation for your present and potential losses.

Q: Can I change my will after it has been made?

A: Yes. It is very easy to change your will after it has been made.

Q: Do I have to go to court to get a divorce?

A: Going to court is the only way to obtain a divorce decree, legal separation, or dissolution of a marriage.

Q: What documents do I need for a divorce?

A: All documents that record income, property or assets should be discussed with your attorney.